My obsession with salt spray continues. It's a very useful product for when you're feeling very lazy or when you're sure what to do with your hair. For me the answer is salt spray. I love how you can just spritz some in and scrunch your and it's all done. Effortless hair in minutes. I've been using and trailing lots actually. So I was thinking I'd do a comparison post all about salt sprays. But today is a review of Derma V10's 'sexy messy hair' sea salt spray*.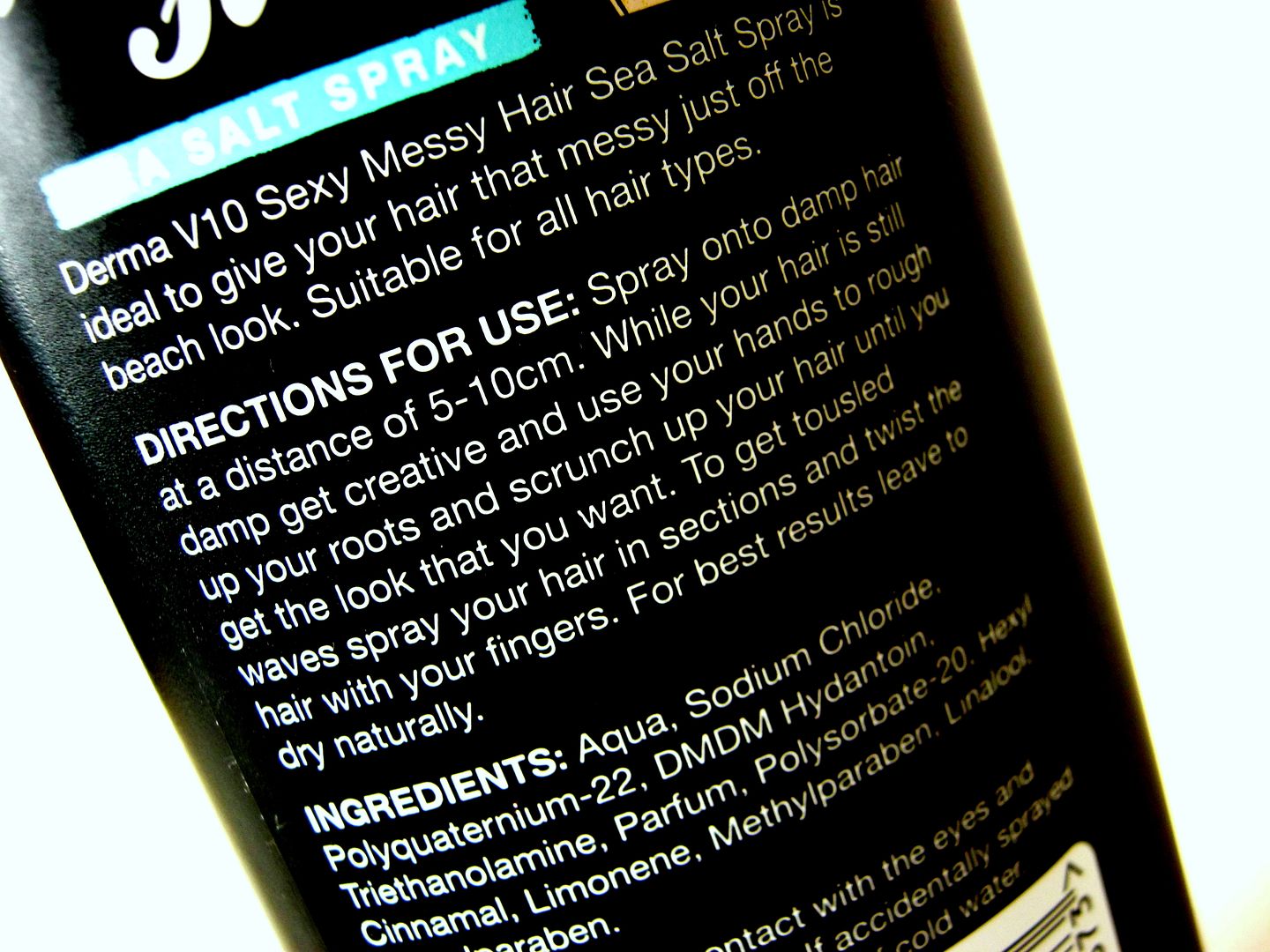 Derma V10's sea salt spray promises to give to give your hair a

matt and messy 'just off the beach' look. It also says that it's great for achieving tousled styles and care-free waves.
I use this into partially dry hair; sometimes even dry. A few sprays is all I need for my hair. The first thing I noticed about this is that it's very much non greasy, doesn't make your hair crisp or sticky. I like that it doesn't do any of these three things as they are the annoying things about sea salt sprays! It has a really lovely scent to it too which is very fresh. Sometimes I add it to my roots to add some volume in that area. It's really great at adding lot's of texture and creating some great effortless waves as well. I love the whole beachy waves look and so far I've been using this to create that. Even if summer is over you can still have it by using this! I've been reaching for this one more than my Fudge salt spray which is something because I loved that and this is a fraction of it's price. I also like the sleek look of the bottle and the overall packaging.
It doesn't make your hair appear shiny either but quite matte which makes my hair appear very natural in terms of getting the whole tousled, textured look. If you're new to salt sprays then check this one out to trail and see how you feel about them!
This is available from bodycare, savers, home bargains and Poundland for £1.49 which is such a great price (a bargain!) for this lovely product.
Have you tried the Derma V10 sea salt spray?