Winter is here. I know. I hate it too. There was a time when I used to live in a very very hot country and all I ever wished was that we move to England where the weather is a 'little' cooler. I got my wish and now I regret it. I love spring. Not even summer but only spring.
But there is always something to look forward to even in 'bad' times and for me that's shopping and also also creating virtual lists of what I'd like to buy for this year's winter.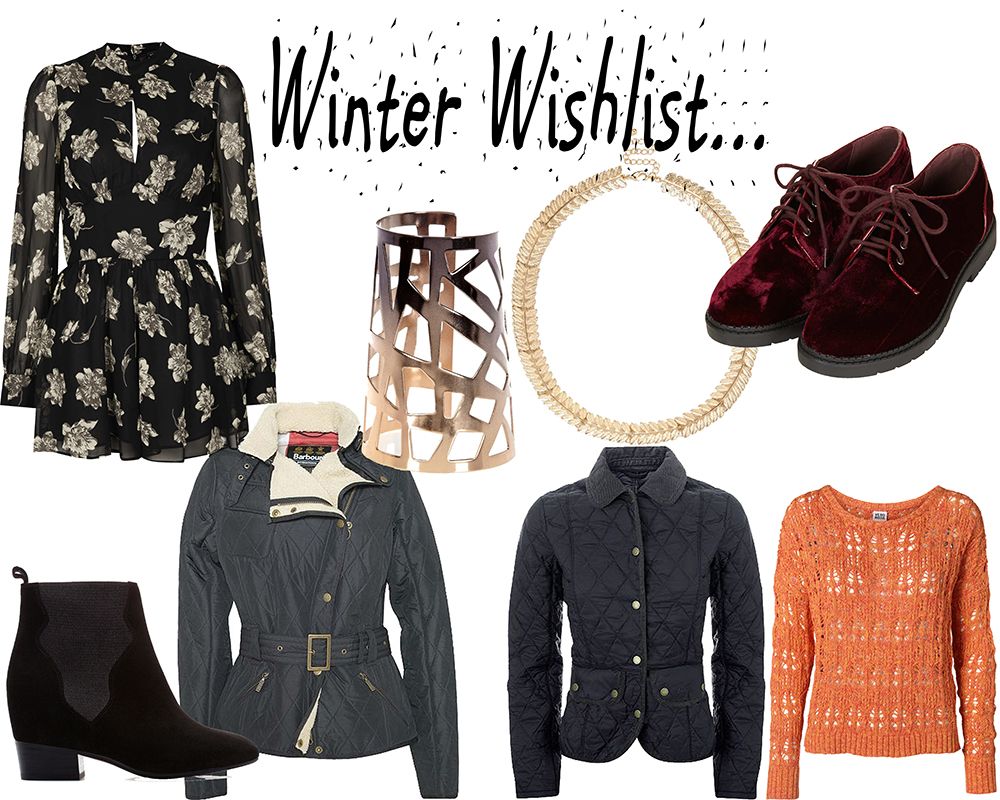 I saw this Topshop Floral Play-suit and thought that it looked quite wintry? It's black and has what I call a 'winter floral' pattern. Florals are not just for summer in my opinion but also for winter (I did a post on this ages ago!). It looks like a great winter piece and I really want it (if only it fits!). Another thing I feel is compulsory to purchase during this freezing season is a jumper. I was browsing online for one that I could dress up or down and came across this lovely Vero Moda knitted jumper in an orange shade. Jumpers are such an 'easy' fashion item. This one is not a very wintry colour where every item of clothing is dark, but it's a gorgeous colour. I love love love Vero Moda clothing. Their quality is really great!
So, about a month ago, I asked on Twitter if getting a Barbour jacket was worth it as it does a cost a little. So many people recommended me to get one of their jackets as they are great. I searched up Barbour clothing and came across a site called House Of Braur where they have a good selection of Barbour clothing. One of the jackets that I thought looked nice was the Barbour Matloch Jacket and another was the Barbour Vintage Quilted Jacket (this one is currently reduced!). Both actually look quite nice and I am sure the quality is great! I do love a good quilted jacket anyways so giving this a thought!
Every year when I think of winter Zara comes to my head immediately. I think they do great winter pieces!
I was browsing the site and fell in love with these Zara ankle boots. They have a cowboy feel to it but it's the perfect amount. Talking about shoes, I love brogue style shoes and these Topshop velvet lace up shoes are beautiful. I love velvet and I love brogues. Perfect. Since we all love to wear a lot of black in winter, gold accessories are always great to pair with black. Isn't this gold River Island leaf necklace pretty?! Another item on the River Island site was this ombre cutout cuff. It's quite unique I think.
This is my 'current' winter wishlist. It'll change! haha
What's on your winter wishlist?
Hareem x