Hey Lovelies,
I have a great guest post for you guys which is written by Shona. She's sharing some of her summer nail polish picks today! Hope you guys enjoy the post and leave a comment to let us know :)
If you're interested in guest posting on my blog, drop me an email :)
Hello! I'm Shona from
freshbeautyxox
and you may remember me from a guest post I did for Hareem back in December last year! Well, I'm back to do another for her and this time round I'm sharing with you my favourite summer nail polishes!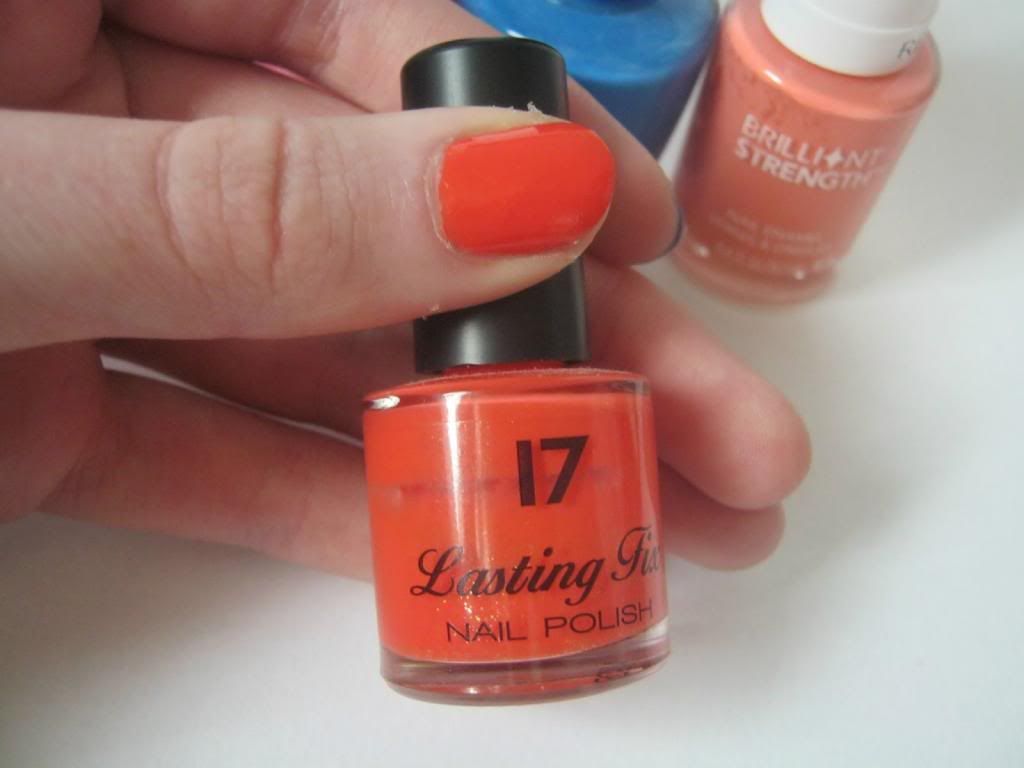 First up we have a Miss Sporty nail polish, it doesn't have a shade name though! That is the only thing that bugs me about this bargain nail polish though. It is a cobalt electric blue that is a permanent favourite of mine but I enjoy it more in the summer. Bold and bright nail polish is the perfect way to brighten up an outfit and I much prefer to go bold with my nails rather than my makeup. The formula of this is really nice, it goes on perfectly and you need 2-3 coats. For only £1.99 the Miss Sporty Nail Polishes are fab!
Next up is the Collection Lasting Gel Colour Nail Polish in Watermelon. Now, if you follow my blog already you would have heard me rave about this beauty non-stop! I can't recommend it to you enough. The formula is fab, you need 2-3 coats and the wide brush makes application easy. The best part is that this nail polish doesn't budge though. I wore this for 6 days without chipping, I had to take it off for Prom but I'm sure it could have lasted a lot longer! It is like a gel manicure but with a bargain price tag of only £3.19 it is a lot cheaper!
Another blue nail polish that I have been loving recently and will continue to love when it gets a bit warmer is W7's Neon Blue. This is a really lovely water blue but you do need 3 coats. Again like the above nail polishes the formula is nice and I really like the brush, it is only basic but the perfect size for my nails. I've got a few W7 nail polishes and I've come to really love them but especially this shade.
Next up is Revlon's Brilliant Strength Nail Polish in Provoke, the perfect summer shade I think! I love cracking out orange shades in the summer and this is a peachy orange. I was hesitant to pay £7.99 for it at first but now I'm glad I did. You need 2-3 coats, the brush is a good size for your nails and I find this dries quicker than a lot of my nail polishes. This colour is my idea of summer and I know I'll be reaching for this a lot!
Finally, another orange! This 17 Lasting Fix Nail Polish in Tropical Island was my favourite last summer and I'm cracking it out again for this summer! It is a orange with tones of red but it also has fine yellow-gold glitter running through it which shows when the sun shines on it. I do find this stains my nails if I don't use a decent base coat and I would prefer a bigger brush but overall I do really love this nail polish.
So, that is my favourite summer nail polishes! I'd love to know some of yours so leave a comment below sharing your favourites.
Shona x
Thankyou so much for guest posting on my blog Shona! I have to get that gorgeous orange polish by 17 ;)
Be sure to check out her blog.
Hareem x